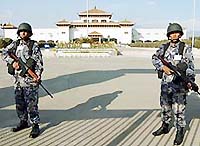 This post has been provided by my dearest friend Jenisha. I thought of gathering someone else's thoughts than mine about my city Kathmandu and I asked her to comment her views of her hometown. She has just beautifully tried to describe the town where she was born and tried to explain the landmarks and important and happening places in Baneswor.
"The battered buildings, the crowded markets, the dusty streets, and the unreliable weather!" Some find these traits of Kathmandu very hard to deal wit but for some like myself these are the reasons why Kathmandu valley is so special and unique. There is no city in the world that I can fit in so well as I do in Kathmandu, and there is nowhere else I can feel at home as I do in New Baneswor.
Baneswor is located at the heart of Kathmandu. It is so wide that for the convenience of the people the whole area is divided in to two; the northern area called Old Baneswor and the southern area called New Baneswor. New Baneswor is the new, very happening place in Kathmandu. The main landmark of the New Baneswor is the Birendra International Conventional Center where programs of high importance concerning education, environment, entertainment, felicitations, etc are held. New Baneswor houses many good colleges in the valley as Himalayan White House College, Ace Management Institute, etc. The place is always buzzing with crowds as it is where two very reputed departmental stores, Navadurga and Baneswor Departmental Store, are located. With leading banks like Standard Chartered and Everest Bank and exquisite hotels and restaurants like Everest, Alinas, Nanglos, etc for all the food lovers and a very reliable nursing home namely Everest Nursing Home.
It won't be very incorrect to say that New Baneswor is probably the most developed part of Kathmandu. The roads and public vehicles to all the part of the city have made New Baneswor even more accessible. It is the one stop for all the needs of everyone in all walks of life. My Baneswor is the best part of Kathmandu.